2023 Scholarship Winners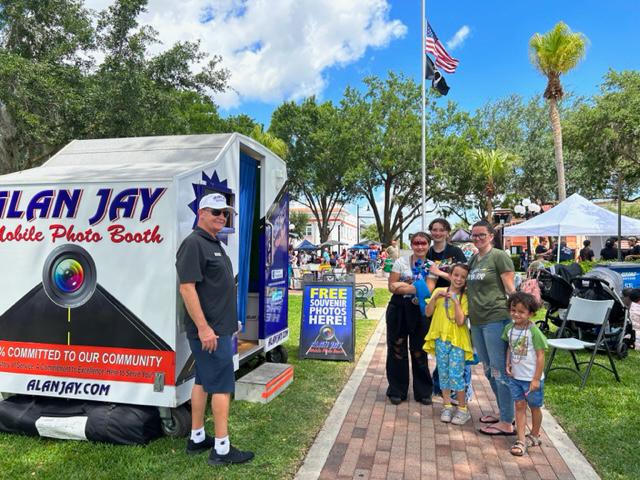 Employees of Alan Jay Automotive Network participated in the United Way Day of Caring on April 22nd, 2022. This year
,
we were able to assist Hands for Homeless in Avon Park. Most of our team got to paint the Treasure Chest
T
hrift
S
tore a bright terra cotta color, while
3 of our ladies assisted Jacob in the kitchen with prepping for the approximately 250 meals they serve every Tuesday & Thursday. The Alan Jay
team members were delighted
to
help
such a
terrific
organization as this!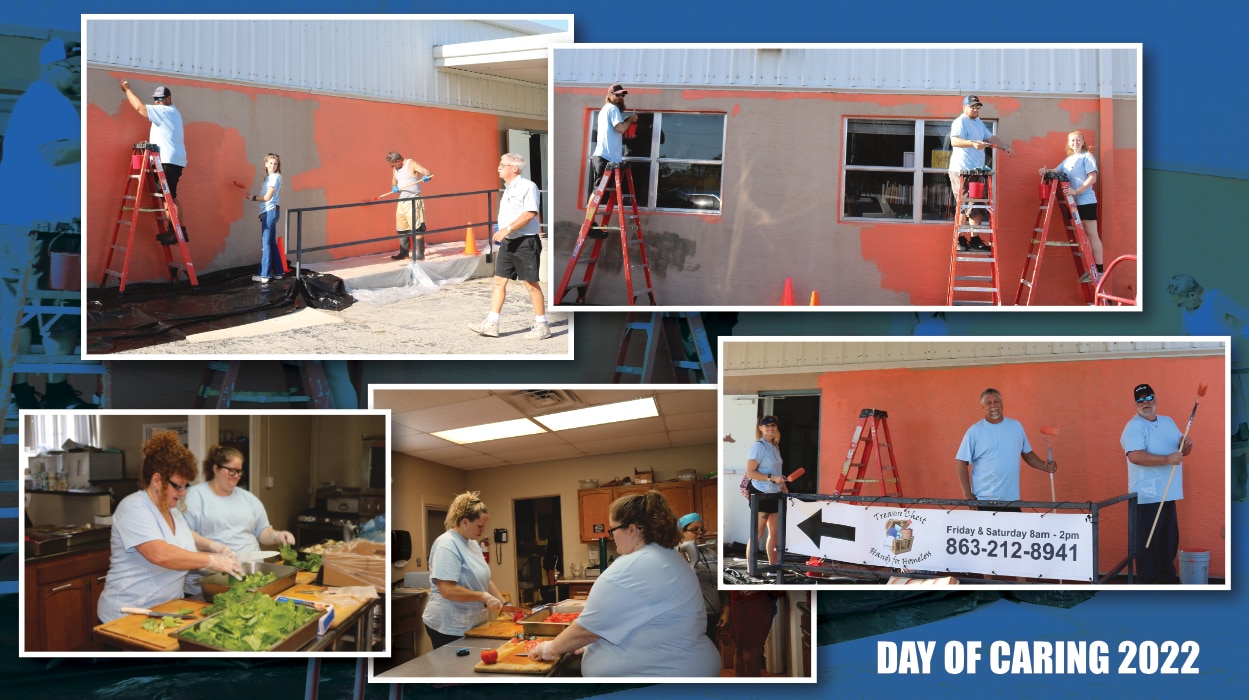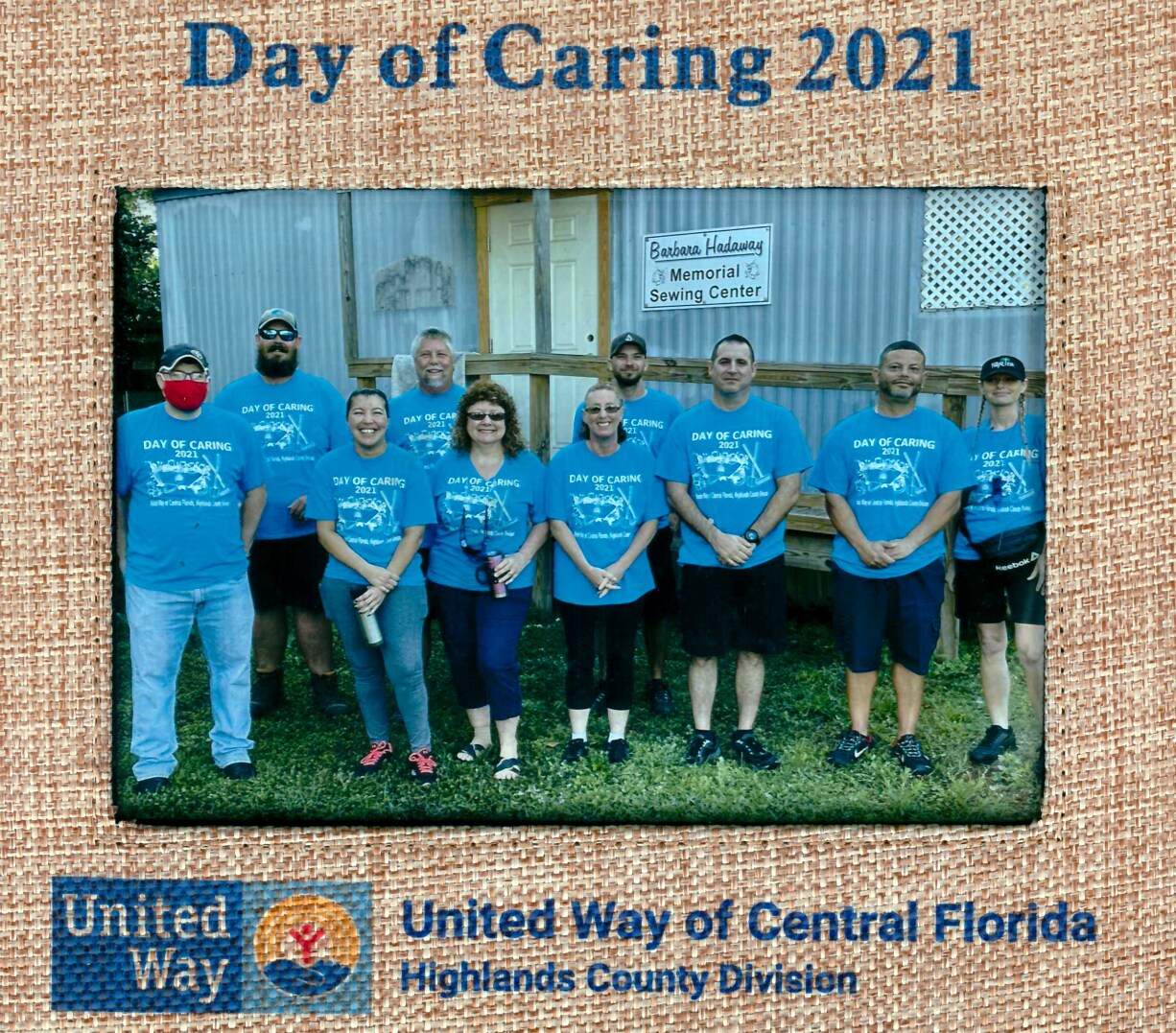 Alan Jay Toyota has had the One Blood donation bus many times over the past 12 months, and have had GALLONS of success! 

Alan Jay Toyota is committed to their community and saving lives!! On April 6th, they collected TEN pints of blood - enough to help save 30 lives!




Salvation Army feeds the multitudes
Highlands News-Sun - 11.29.19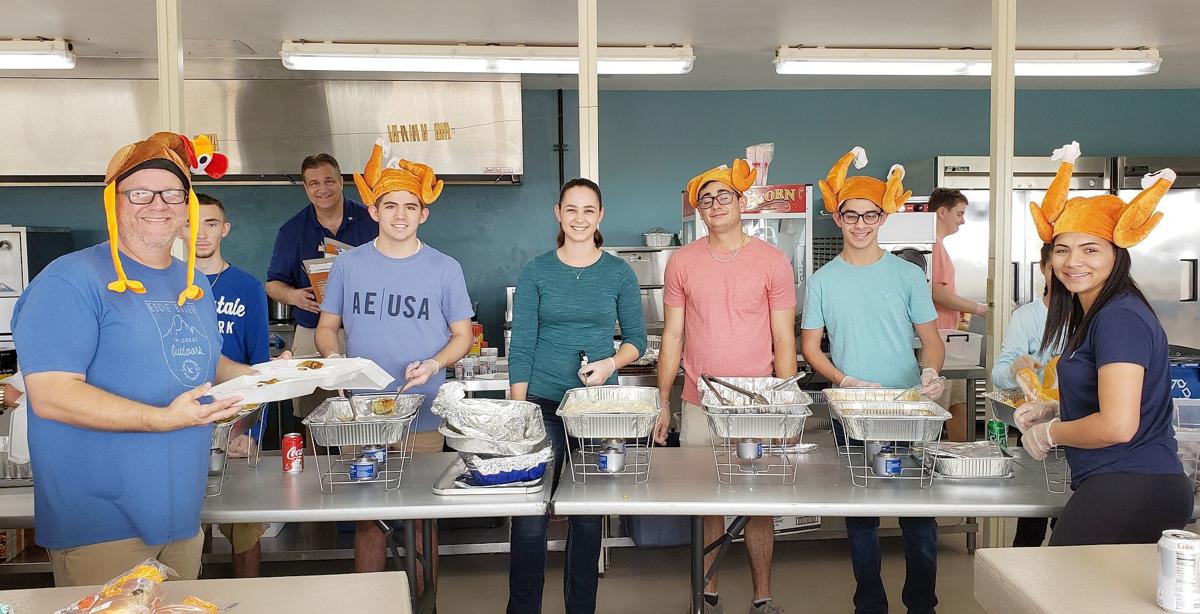 SEBRING - With grateful hearts and stomachs full, hundreds of people were fed through the efforts of Salvation Army and untold volunteers on Thanksgiving Day. Volunteers cooked for hours on Thursday morning at the Highlands County Multi-Sports Complex. Others cooked turkeys in their own homes. Volunteers were from all different walks of life, local dignitaries, retirees and even future politicians.
City of Sebring City Administrator Randy Vosburg brought his family to serve the turkey dinner with all the trimmings and dessert. Vosburg said they started cooking at the concession stand at 8 a.m. but many people had been preparing for an entire week.
Those partaking in the dinner had the option to pick up the dinners at the concession stand at the ball field or have it delivered courtesy of Alan Jay Automotive vans. Some 100 deliveries were scheduled by noon and the vans would return for more deliveries. Some of the fire houses, EMS and Central Dispatch were all scheduled to have food delivered to those who had to work despite the holiday.
"I brought the family out here today," Vosburg said. "We are very blessed, and we want to share the day with others."
Vosburg said Highlands County Board of County Commissioner Don Elwell was the driving force behind organizing this year's holiday dinner. He also said many people were picking up dinners for their neighbors.
"One woman just left with 26 dinners, she is bringing them to her community," Vosburg said.
Nancy Davis is a nurse, so it was no wonder she was taking care of others on Thanksgiving Day.
"This is awesome," Davis said. "This is the first year I am bringing dinner to my shut-in neighbors."
At the Salvation Army Worship Center at 120 N Ridgewood Dr., gusts enjoyed their meals at decorative tables. New friendships were made, and old acquaintances renewed as the diners socialized.
Carl Rappe enjoyed his dinner with Beverly Eck. Eck turned 89 on Nov. 26, she had a birthday and Thanksgiving dinner all in one.
"I know they deliver but I wanted to get out and socialize," Eck said. "The day is so pretty, I just wanted to get out of the house. I eat alone every day."
Eck said she used to attend worship services when they were offered at the Salvation Army. Earlier this year the services were stopped. The Salvation Army still offers community resources and has a thrift store that funds them at 3135 Kenilworth Blvd.
County's largest flag raised
Goes up over Alan Jay Ford 1/14/19
By ROBERT MILLER - Highlands News-Sun
SEBRING - There's a new flag flying high over the Alan Jay Ford lot today, already being called the largest flag in Highlands County. The flag stands as a tribute to veterans and a welcome sign to those traveling north on U.S. 27.
Alan Jay executives had been discussing the idea of putting up a large flagpole at the new Toyota dealership. Don Elwell suggested looking at putting it on the Alan Jay Ford lot.
City of Sebring standards dictated flagpoles couldn't be higher than 50 feet. Alan Jay executives wanted a taller flagpole to accommodate a larger flag. So, they asked the city to re-evaluate that number.
According to Elwell, it didn't take long for them to come to a compromise and allow them to have a flagpole 110 feet. "We asked for 500 feet," Elwell joked during the flag raising ceremony Monday morning.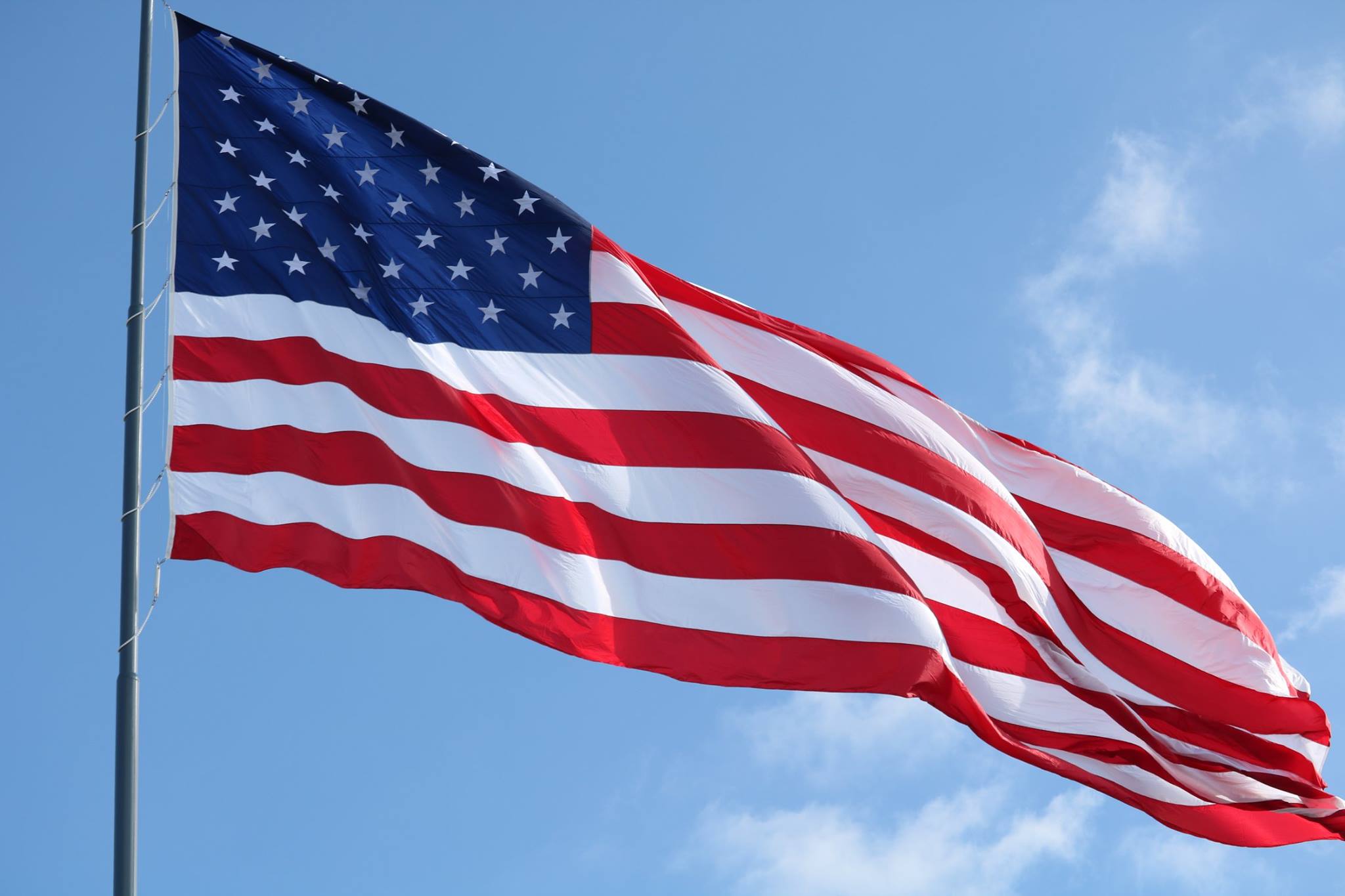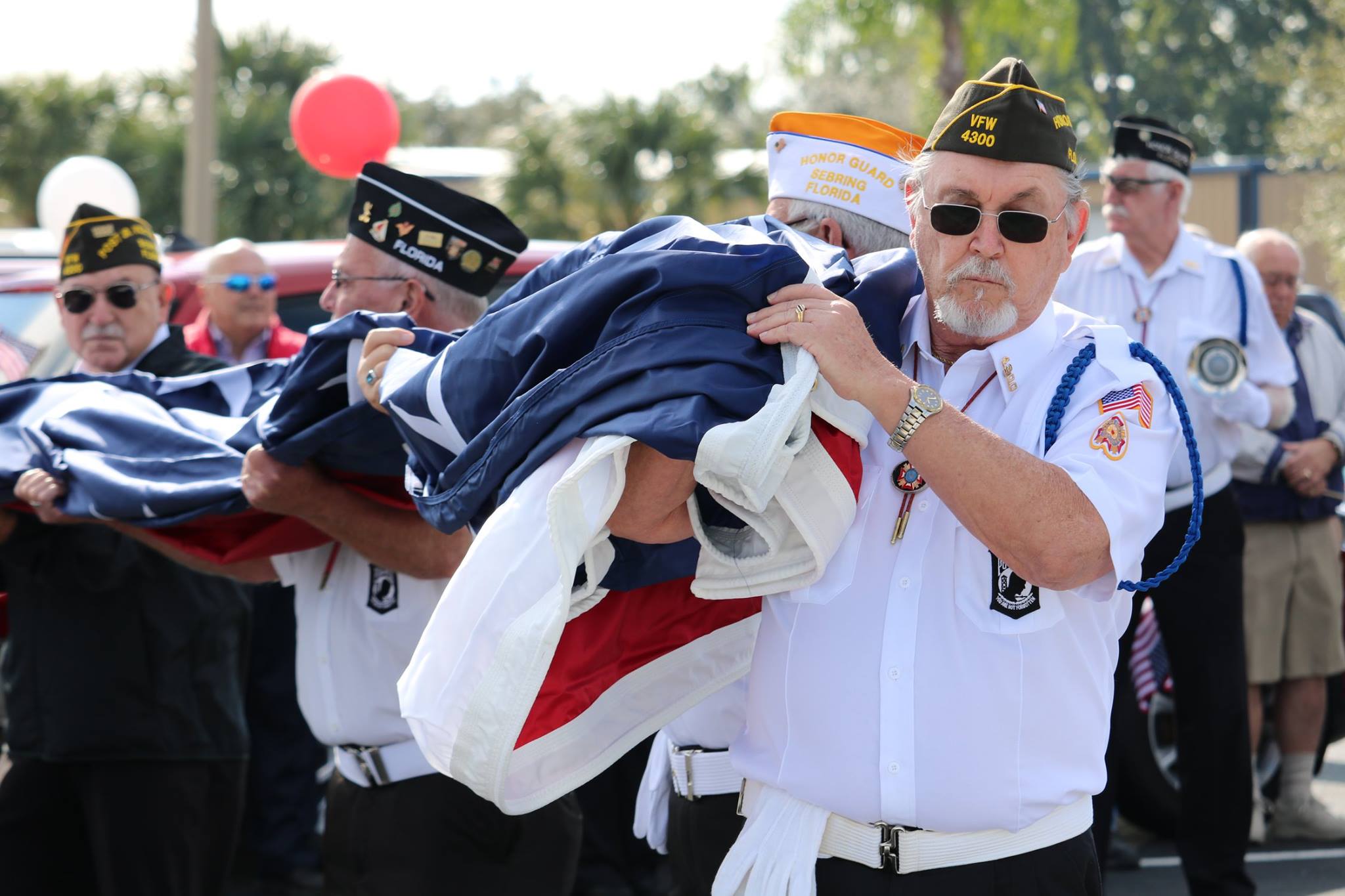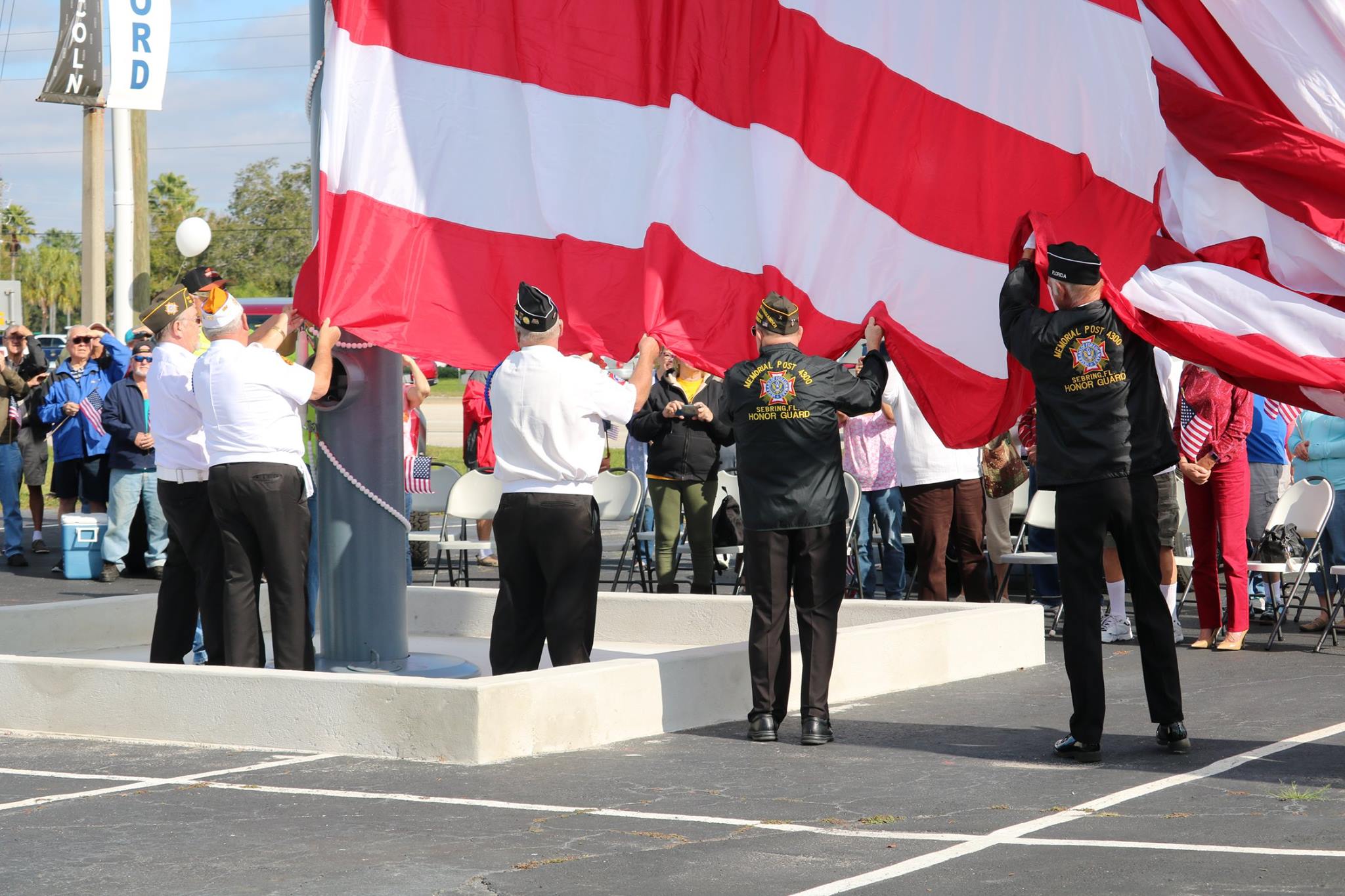 This new pole is now the home of an American flag that is 30 feet high and 60 feet wide for a otal area of 1,800 square feet.
"We made it out of nylon so it would be a little lighter," Elwell said. At only 53 pounds, the flag was made to catch the wind and blow better than a flag the same size that would normally weigh about 200 pounds.
The flagpole was a massive undertaking in its own right. Standing 110 feet above ground, the pole extends another 12 feet into the ground, surrounded by 30 yards of concrete. According to Robert Gordon with Gordies Flag Pole Services, the company that installed the pole, it took two to three weeks to get the pole set up and installed.
"We did it because we wanted to honor our veterans," Elwell said.
Elwell, a county commissioner, went on to cite that Highlands County has nearly 20,000 veterans - meaning 1 in 5 citizens have served in the military in some capacity. On hand to help raise the massive flag were representatives from the American Legion Post 25 in Lake Placid, the VFW Post 4300 in Sebring and the VFW Post 4300 Honor Guard.
Alongside the large turnout of civilians and veterans who turned out for the flag raising, the crowd was joined by Sebring Mayor John Shoop. After Elwell spoke, Nelly Ford preformed a beautiful rendition of "God Bless America" and "The Star-Spangled Banner." Free hot dogs were available for those in attendance after the ceremony.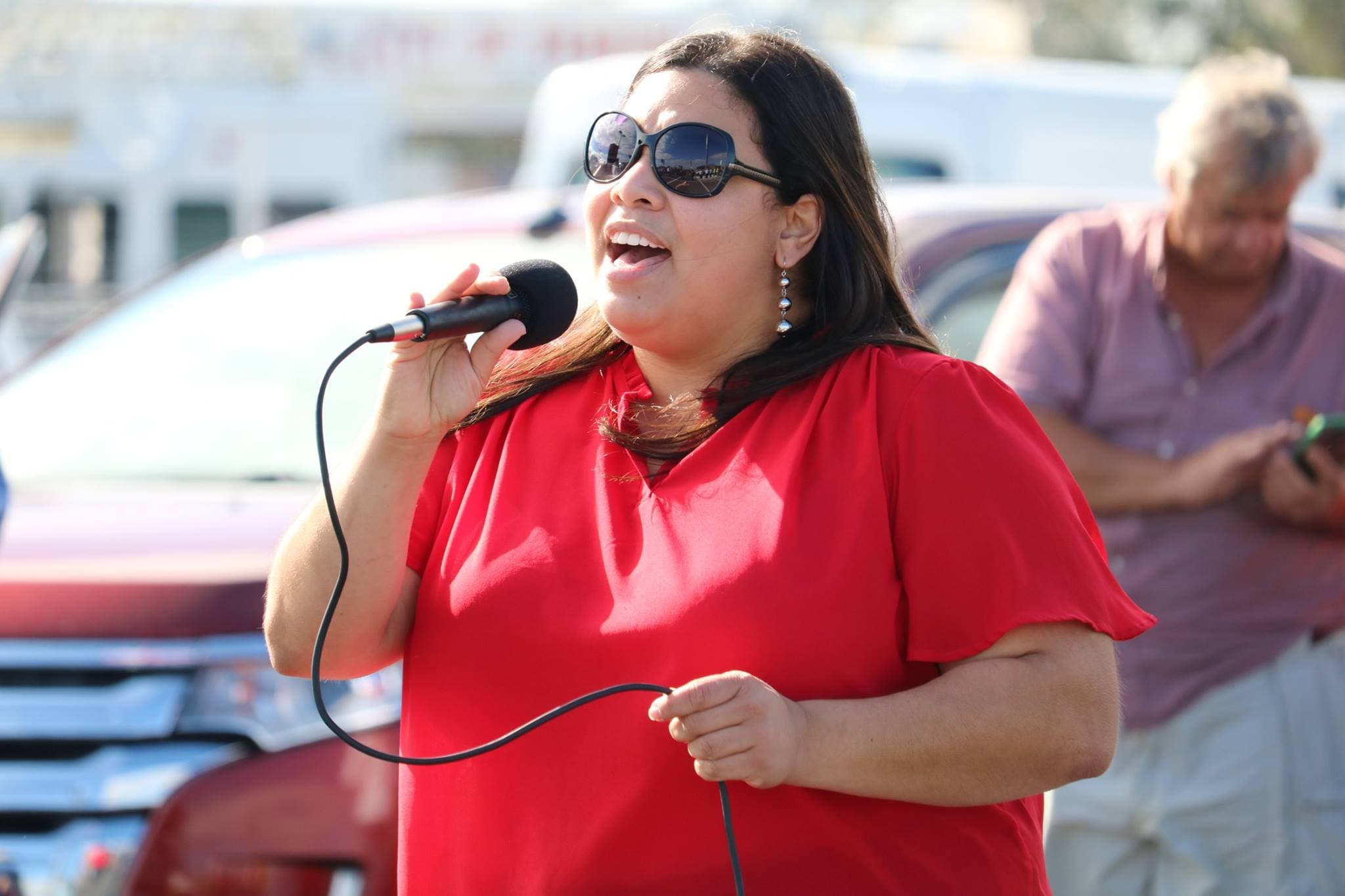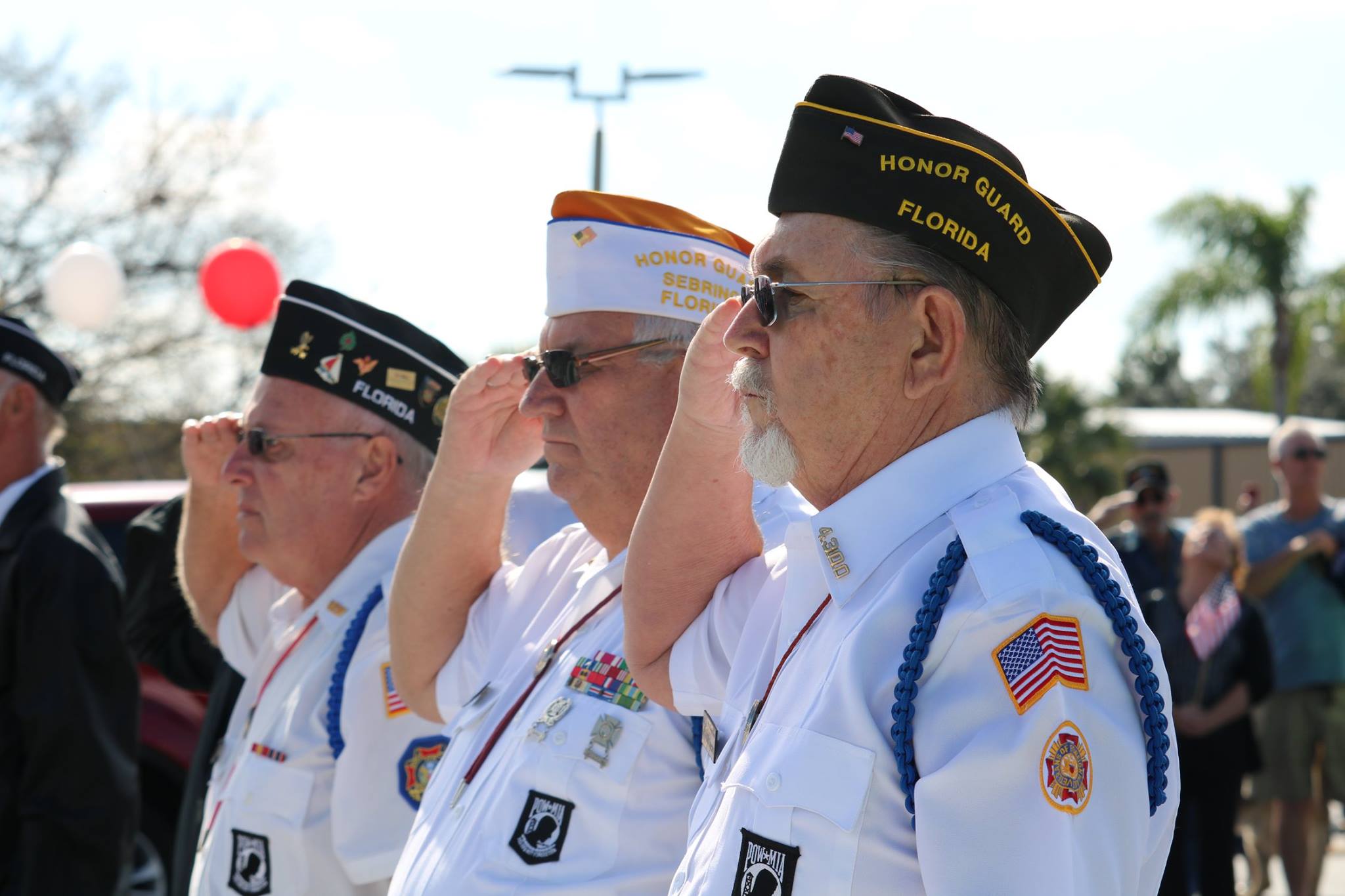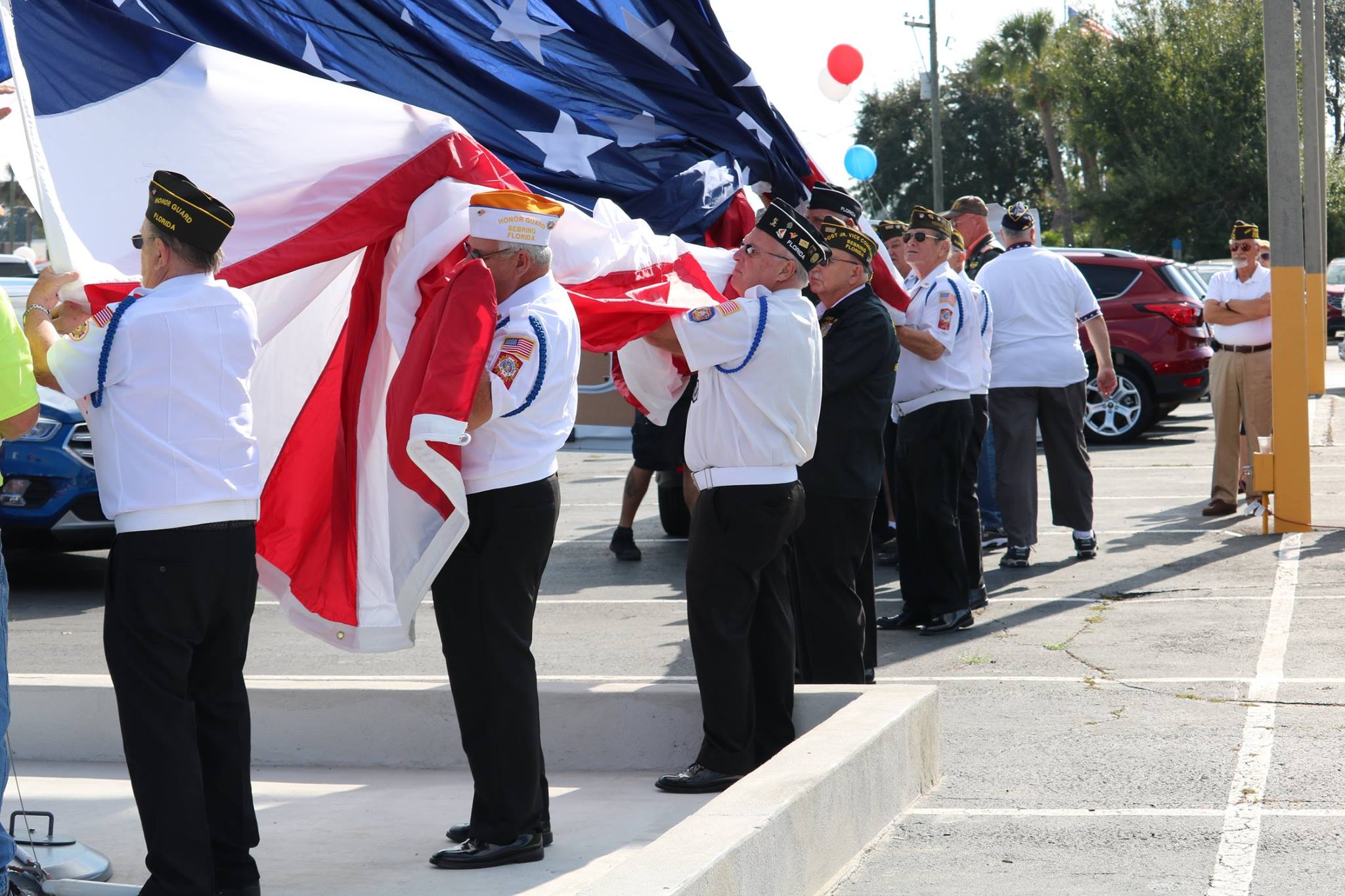 The Alan Jay Automotive Network was proud once again to be the title sponsor of this year's VERY successful 
Caladium Festival Car Show in Lake Placid on July 28th.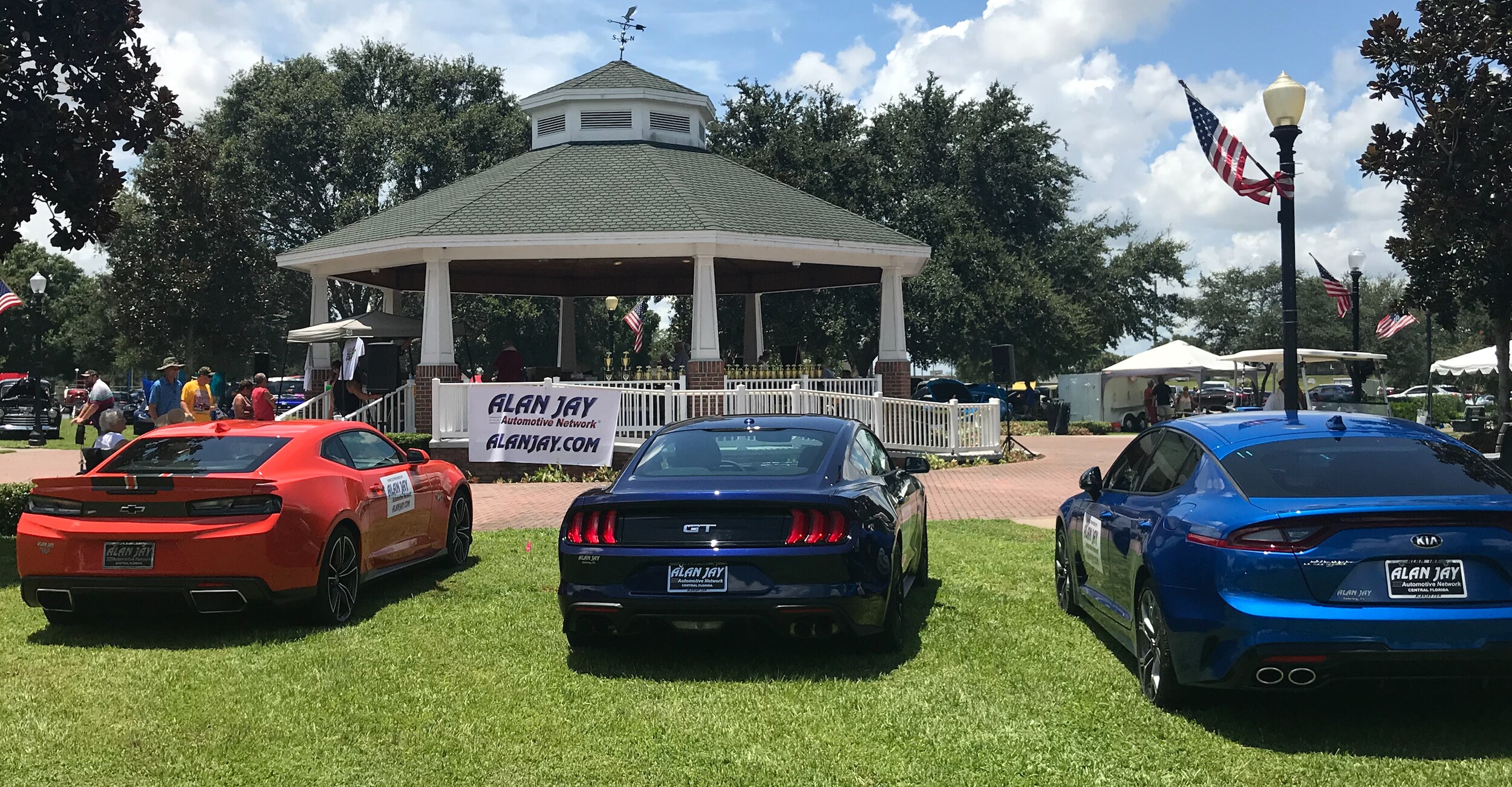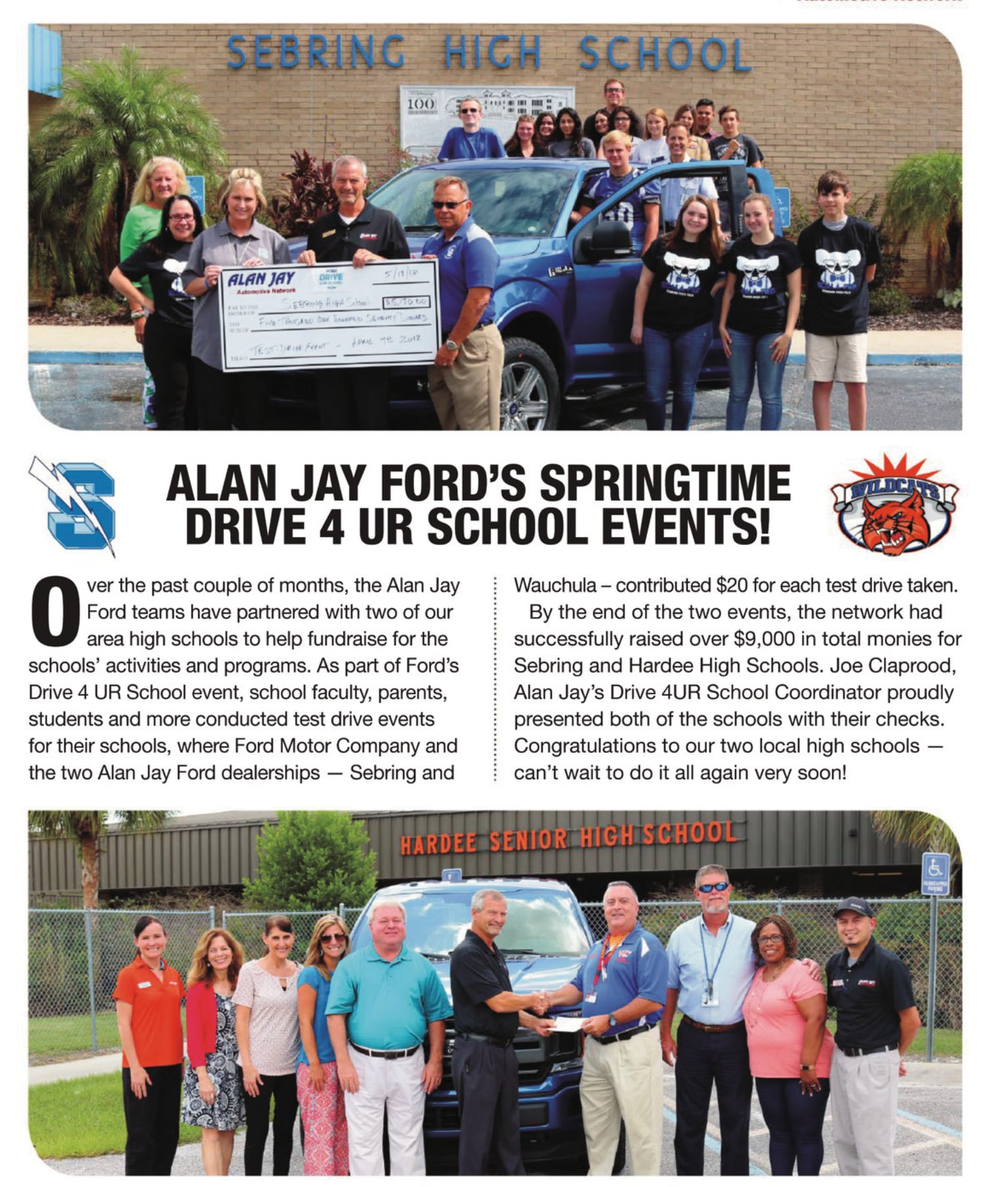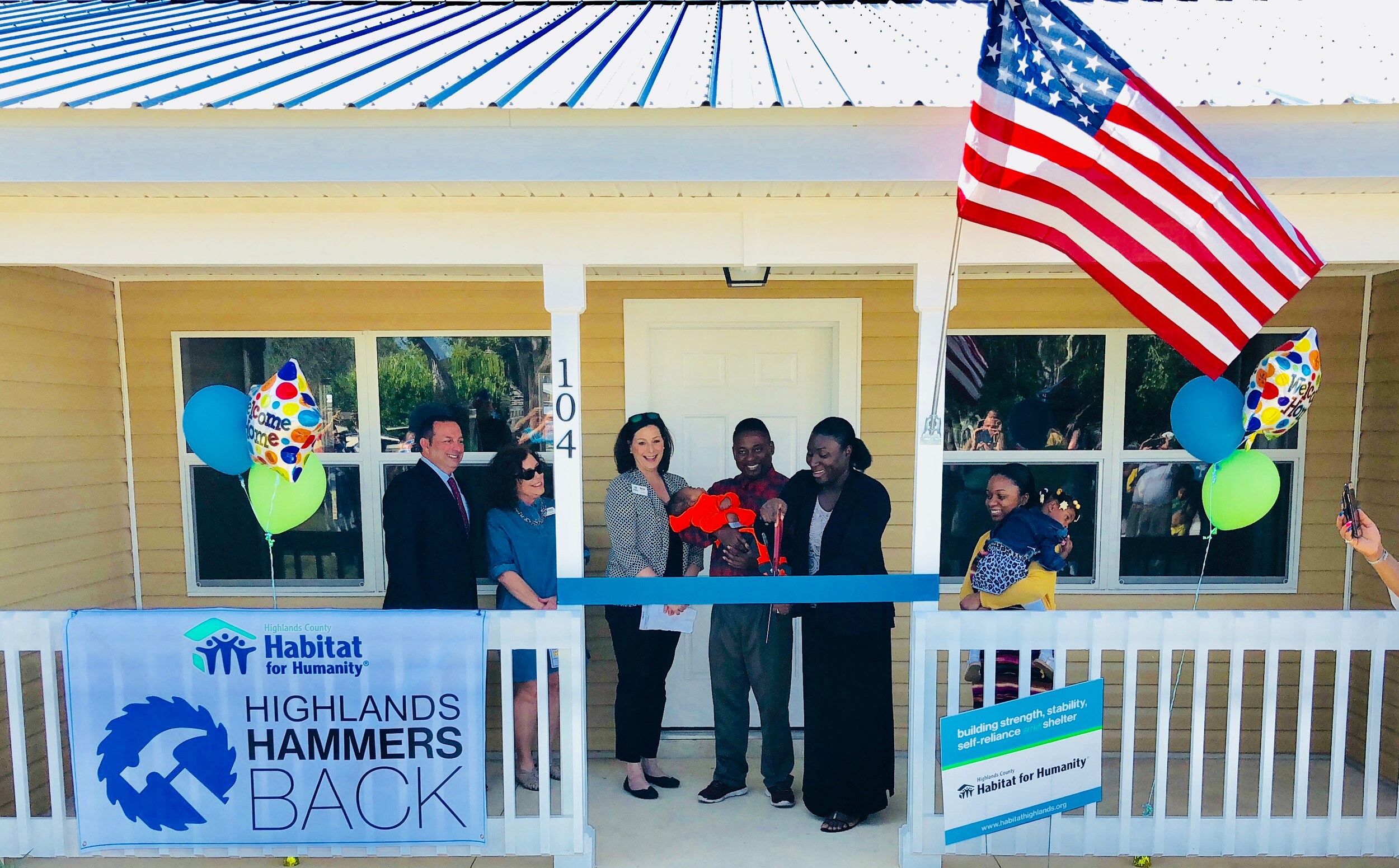 Highlands Hammers Back - Highlands News-Sun - March 2018
AVON PARK - Josiah Powell, 7 months old, can count himself among the youngest evacuees displaced by Hurricane Irma, but his family got a new home Tuesday.
His parents, Tyrone and Sophia Powell, accepted keys Tuesday from Highlands County Habitat for Humanity for their new home on Thomas Street in Avon Park.
It's a change from the old house they and two of their children shared at the corner of Lakeview Drive and Bayview Street in Sebring - Tyrone Powell said he used to walk over to the lake to fish frequently - but it's got bedrooms for everyone, state-of-the-art energy efficiency and best of all, no trees through the roof.
When Irma hit, the baby was just two weeks old, Tyrone Powell said. They had no choice but to evacuate, to in-laws in Wisconsin.
He returned in the rain, thinking he'd have a little debris.
He walked into the house to rain pouring in from the roof.
Since then, the family has been in hotels, including up to a couple of nights ago.
After Hurricane Irma, the Highlands County Habitat for Humanity affiliate started a program called "Highlands Hammers Back," to repair and/or rebuild homes damaged by Irma, said Sarah Creekmore, executive director of Highlands Habitat.
Ron DeGenaro, board chair and pastor of St. John United Methodist Church in Sebring, said Habitat for Humanity is committed to eliminating substandard housing.
"Hurricane Irma changed the game in our community. It manufactured, if you will, more substandard housing," DeGenaro said.
That's why Highlands Hammers Back was initiated, he said: To make sure hurricanes never do the same damage to homes Habitat workers have touched.
Jill Cleveland, with Habitat for Humanity International, said Highlands is one of five affiliates doing hurricane rebuild work in their areas. Others include Marathon Key, Key West, Collier County (Naples), Hendry County and Lee County.
Habitat also provides gap funding for those having trouble paying for roof repairs in the wake of the storm and who are willing to upgrade to metal, Cleveland said.
Bishop Tyrone Powell - also called "Pastor Hallelujah" - serves as youth and adult choir director at Greater Macedonia Church in Bowling Green. Sophia plays keyboard for the Greater Macedonia Church Choir, which lifted voices heavenward, singing "Oh Give Thanks" and "You Deserve It."
The house was blessed not only by DeGenaro, but also Pastor Emmanuel Reed of Greater Macedonia Church, Apostle Erik Maiden of Now Faith Ministries International and by Pastor Hallelujah, Tyrone Powell.
Blair Pakowski, Habitat development and communications manager, said Highlands Habitat hopes to build 40 such hurricane homes in the next four years, 10 per year. The Powells' three-bedroom, twobath home is one of four started already, and took four months to complete.
Creekmore said that was thanks to sponsorship by Alan Jay Automotive Network and in-kind donations from several companies, including Gramática SIPS International, a Tampabased structural insulated panel company owned by Martín Gramática, former NFL placekicker. Tuesday at the ceremony, Gramática said his coach at the Tampa Bay Buccaneers, Tony Dungy, taught his players to give back.
He still does in other ways. Gramática said his staff learns regularly how to improve their panels by volunteering at Habitat build sites.
For his part, Alan Jay Wildstein said this was the 19th home his company has sponsored.
"We want to do so much more," Wildstein said.
Creekmore also thanked volunteers from Habitat's RV Care-A-Vanners program - people who travel all over the country in their RVs to work on Habitat homes. Carolyn and Martin Kleiner, members of the program, presented the Powells with their new house keys, all while helping hold Josiah, who napped through much of the event.
The only sadness they had Tuesday was sickness. Josiah's big sister, 2-yearold Alicia Love Powell, had a stomach bug, and it was her birthday.
Normally, Tyrone Powell said, Alicia dotes on her brother: "Her baby." Instead, she spent most of the ceremony weary in the arms of her big sister, 25-year-old Tyisha Powell, one of the Powells' three other grown children.
Tyisha Powell led the song, "Oh Give Thanks," with Alicia's head on her shoulder.
Sophia hoped to get Alicia to eat some of the food prepared for the occasion by Tarniz and Trené Williams, the Powells' soon-to-be back-door neighbors. The Williams will soon move into another Habitat for Humanity home, though not one of the hurricane homes, on Winthrop Street in Avon Park.