Highlands News-Sun - 2/12/20

TV's biker Paul Sr. delivers 'Lincoln Chopper' to Sebring dealership
SEBRING - It was a Lincoln Chopper at a Lincoln dealership on Lincoln's birthday with a big crowd Wednesday to see reality TV personality Paul Sr. of Orange County Choppers.

Famed custom motorcycle manufacturer Paul Teutul Sr. and a bevy of bikers departed around noon from the Sebring Airport Authority and proceeded into downtown Sebring around the the Circle then out to U.S. 27 to the Alan Jay Ford Lincoln dealership.

A large crowd was waiting at the dealership to see Teutul and the unique (only three made) 9-foot long Lincoln Chopper. About 125 bikers rode a variety of two-wheel and three-wheel machines in the caravan to the dealership.

Teutul, who had injured his knee recently, arrived in an Alan Jay Automotive Network convertible. He was shaking hands and the subject of many cellphone photos the moment he arrived.

Steve DiSano, originally of Rhode Island, who moved to Highlands County recently, said he had watched the reality TV show based in a custom bike shop all the time, including the fights between Teutul Jr. and Sr. Then the father and son went their separate ways.

"It was a good show, always," he said. "I am here to try and get a picture with him so I can put it on Facebook. You don't have too many celebrities in Sebring."

Alan Jay Wildstein welcomed the gathering and noted that he has known Paul Sr. for quite a while and appreciated him coming.

He doesn't ride bikes anymore, but being a Lincoln dealer and with the resurgence of the Lincoln brand, Wildstein said he originally wanted to borrow the Lincoln Chopper. But, Paul Sr. said he would offer him the bike on the condition that it would be on display for the public to enjoy.

The bike will be on display in the Alan Jay Ford Lincoln dealership in Sebring.

Wildstein commented to Highlands News-Sun, it's a big event for the middle of the week, for a Wednesday.

"We had some people say it is not a good day to do this," he said. "I think it is really cool to do Lincoln on Lincoln's Birthday and to have that bike here and the relationship with OCC [Orange County Choppers] and with Paul and Joannie [Bulger-Kay] has been great for a long time.

"For me it is really cool to have the privilege to have the bike. It's history. It's in the Ford Museum. That is where the other one is. It is a super-big honor We are excited about it."

Orange County Choppers is located in Newburgh, New York, which is in Orange County, New York. The business was featured on the television show American Choppers on the Discovery Channel and then on TLC.


Ford wins IMSA Continental Tire Sports Car Challenge's Alan Jay Automotive Network 120 at Sebring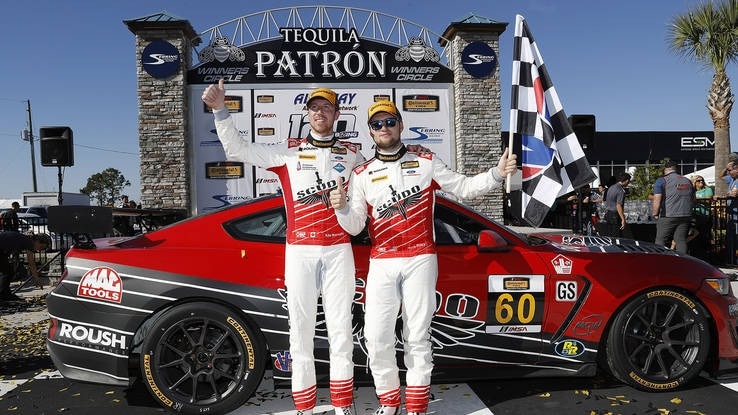 Mustang in victory lane for second year
March 16, 2018
The No. 60 Roush/KohR Motorsports Ford Mustang GT4 won the second IMSA Continental Tire Sports Car Challenge race of the season, the Alan Jay Automotive Network 120. The "120" refers to the two-hour length of the race, which went 47 laps around the 3.74-mile Sebring International Raceway on Friday.

Drivers Kyle Marcelli and Nate Stacy finished 7.651 seconds ahead of the second-place car, the No. 26 Classic BMW/Vess BMW M4 GT4 of Toby Grahovec and Jason Hart. Just 0.2 seconds back from the BMW was the No. 28 RS1 Porsche Cayman GT4 MR of Spencer Pumpelly and Dillion Machaven. That team won the Grand sport class at the season opener at Daytona, but pit stops related to an ill-timed late caution flag kept them from repeating at Sebring.

"It feels great," Stacy said. "The team worked flawlessly. We had a really good strategy, I'm really glad it worked out. It was kind of a gutsy move, but it worked out in the end. With these Continental tires, it was just crazy good at the beginning. I had a bit of a push toward the end there, but it got hot and sticky. It was great all around."
 
"It's a heck of a start to the weekend and more motivation going into tomorrow's 12-hour event," added Marcelli, who is entered in the No. 14 Lexus RC F GT3 in the Mobil 1 Twelve Hours of Sebring Presented by Advance Auto Parts. "Today's race was a team effort. Nate did qualifying duties and the opening stint of the race, and in a 27-car GT4 grid, there's a lot of mayhem in those first few laps. He handled it well and worked his way forward, brought the car in in P6.
 
In the Street Tuner class, Mark Pombo and Jared Salinsky took the win in the No. 52 MINI JCW Team in their Mini Cooper, followed by the No. 73 team car driven by Mat Pombo and Mike LaMarra. Only five entries showed up, as IMSA is fast phasing out the class is favor of the new Touring Car Class, or TCR, which features factory-built entries rather than team-built cars.

And for the second outing of TCR, Kuno Wittmer and Rodrigo Sales won in the No. 74 Compass Racing Pfaff Automotive Audi RS3 LMS TCR, followed by the only non-Audi in the six-car field, the No. 31 Volkswagen Golf GTi TCR of brothers Tanner and Luke Rumburg. The Daytona-winning Audi, the No. 77 Compass Racing entry of Tom Long and Britt Casey, Jr., was leading until suffering mechanical problems in the final stages of the race.

Next up for the IMSA Continental Tire Sports Car Challenge: The Mid-Ohio Sports Car Showdown in Lexington, Ohio, May 4-6.

Read more: http://autoweek.com/article/imsa/ford-wins-imsa-continental-tire-sports-car-alan-jay-automotive-network-120-sebring#ixzz5ANpmRblD
---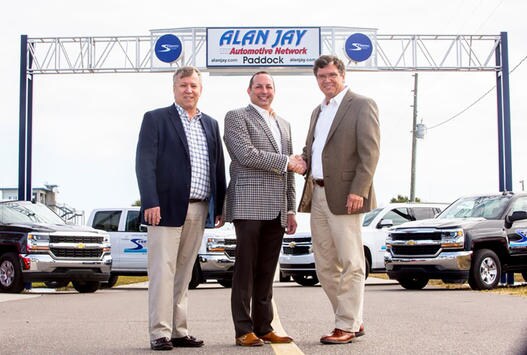 Source : http://www.imsa.com/
Sebring International Raceway's Paddock is now officially designated "The Alan Jay Paddock." New lighted entrance signs into the Alan Jay Paddock will welcome the thousands of fans, competitors and media attending events at the raceway, highlighted by the 65th Mobil 1 Twelve Hours of Sebring Fueled by Fresh From Florida, March 15-18th.
The entrance signs at each side of the paddock, improved lighting and newly designated street signs will enhance the overall appearance of The Alan Jay Paddock.
Alan Jay Wildstein, President & CEO of the Alan Jay Automotive Network, states, "The Sebring International Raceway is a legendary, world-renowned racing facility, and I am very proud to be able to align our company with such a premier location right in our own backyard".
 "This innovative sponsorship provides the Alan Jay Automotive Network maximum visibility year-round," stated Sebring Raceway President and General Manager Wayne Estes. "Alan Jay is a very well-respected name in the community. In addition to Alan's award-winning automotive dealerships, his support of hundreds of service organizations and educational institutions in Highlands County is a testament to his dedication to our community. Since he is also an avid sportscar enthusiast, we couldn't ask for a better marketing partner."
Sebring International Raceway is the birthplace of American endurance racing. Originating from a WWII B-17 training base known as Hendricks Field, Sebring has been the home of the legendary 12-hour endurance race since 1952. The 3.74-mile circuit is considered the world's toughest road course.
The Alan Jay Automotive Network will celebrate its 25th anniversary in 2017.  Ever since Alan Jay Wildstein's arrival in Sebring in 1992, his simple philosophy of treating customers like family and becoming a true partner within the community has played no small part in the automotive group's incredible success.  As of today, the Alan Jay Automotive Network owns and manages 12 locations and 15 unique new automobile manufacturers, employing nearly 400 team members throughout Central Florida.
The Alan Jay Automotive Network has pledged to be a premier partner in the community. Each year, the network contributes to hundreds of events, organizations, and individuals, with particular emphasis on fundraisers that directly benefit the community's children.  One of the network's favorite events is its annual "Wheels For A's" campaign, held at each of the area's five high schools.  From hundreds of entries (one for each "A" earned), one lucky senior at each school is chosen and given a late-model pre-owned vehicle during their school's graduation ceremonies.  The automotive network has awarded nearly seventy vehicles since the program's inception.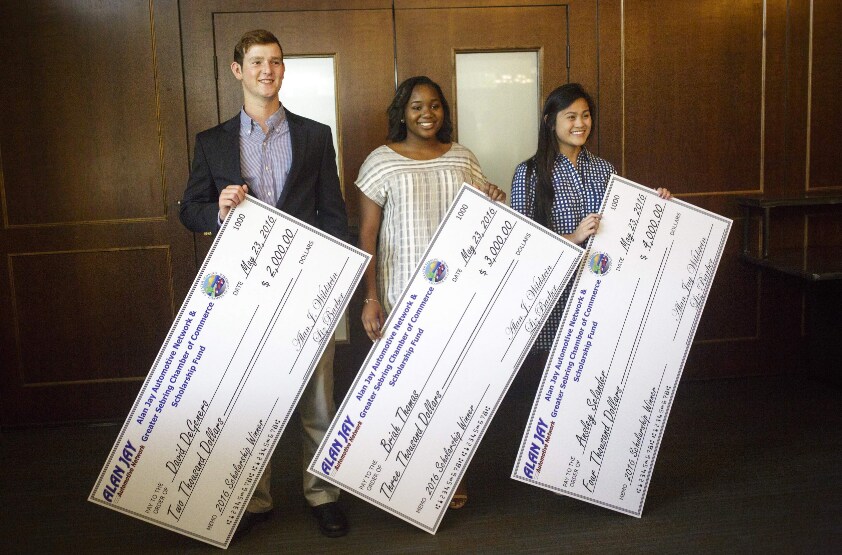 Scholarship winners David DeGenaro, left, won the $2,000 scholarship, Briah Thomas, center, won the $3,000 scholarship, and Ansley Selander, right, won the $4,000 scholarship Monday during the annual Alan Jay Automotive Network and Greater Sebring Chamber of Commerce Scholarship Awards and Recognition Banquet at Island View Restaurant., KILE BREWER/STAFF
SEBRING - Ten high school seniors, eight from Sebring High School and two from Heartland Christian Academy, were recognized Monday at the 23rd annual Scholarship Awards & Recognition Banquet presented by the Alan Jay Automotive Network and the Greater Sebring Chamber of Commerce.
Three Sebring High seniors were presented with scholarships: Ansley Selander, $4,000; Briah Thomas, $3,000, and David DeGenaro, $2,000.
Alan Jay Wildstein said college is expensive and it takes a community to raise these kids.
In 23 years, the scholarship awards effort has provided $140,000 in scholarship funds, he said. "For a small community, we have people with big hearts."
The ultimate goal is to have a self-funded scholarship program, Wildstein said.
The event was held at the Island View Lakefront Restaurant at Sun 'n Lake where attendees donated $5,526 for scholarships, which was doubled to $11,052 by Wildstein, who then rounded the total up to $15,000.
The other seniors who were recognized from Sebring High are: Olivia Colangelo, Amelia Ritenour, Luke Smith, Kaley Terrell and Rachel Todd.
The two seniors who were recognized from Heartland Christian Academy are: Caitlin Conrad and Shayne Fassler.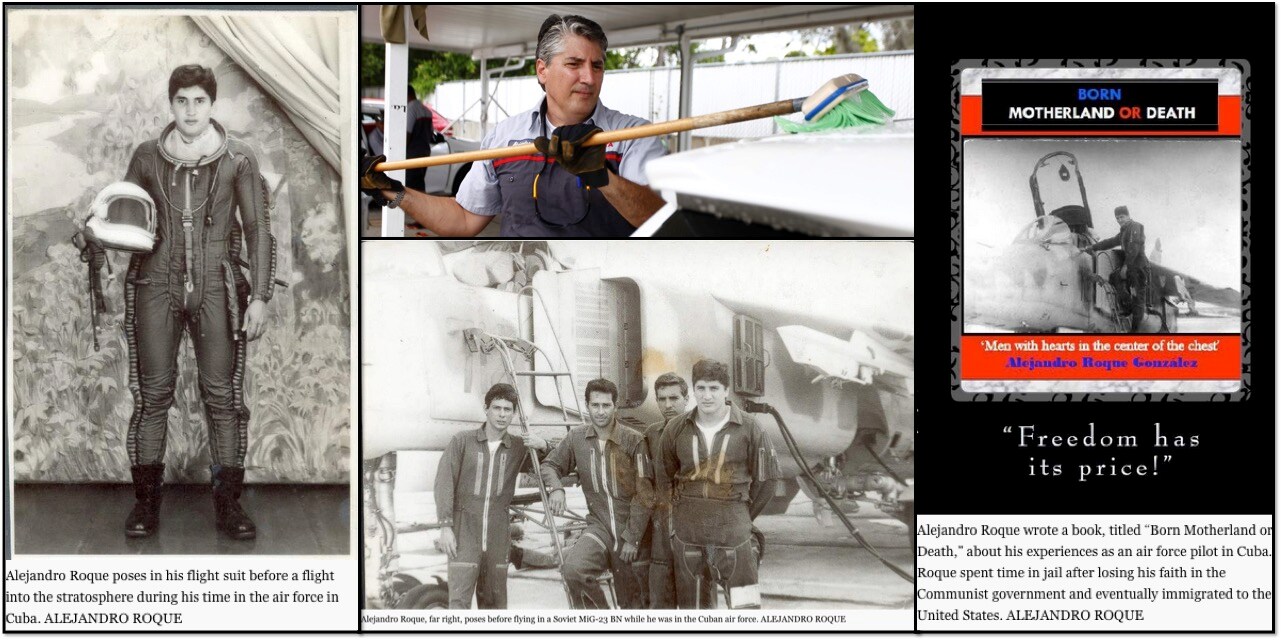 Courtesy of Highlands Today - 2015
SEBRING - At one time, he planned to take to the skies as an indoctrinated and staunch believer and supporter of the cause and commitment promised by the doctrine of shared education, healthcare and wealth.
But now, Alejandro Roque said he is a grounded, staunch supporter and avid believer in the democracy and the idealogies of opportunities and freedoms for all.
Roque currently spends his workdays as a porter and car detailer at Alan Jay Toyota, Sebring, where he shuttles cars from different ports and makes their interiors and bodies gleam. But over two decades ago, Roque was an his way to a military career as a Soviet Union-trained jet pilot fighter ready to protect the Cuban Caribbean epicenter of Communism - and in the process, he literally became a prisoner of a political system.
Now living in Sebring for about eight months with his wife, Ingrid, Roque's life is a lot more steady and leveled than the time he spent flying 50,000 feet in the air. It's also more liberating than the one year he spent of an 18-year sentence toiling in one of Cuban dictator Fidel Castro's incarceration camps in San Antonio, Cuba, for repealing his allegiance to the dogma of a dictatorship.
"By merely facing the communist lie in its various forms, one way or another, I ended up sent to Castro's prisons and hard labor camps, repealing my rights, freedom of opinion, assembly, association, and to express my religious or political beliefs," Roque, 51, wrote in an autobiographical newsletter article. "That's the system I left behind in 1994, when freed from the false mirage of socialism."
Roque's path from Havana, Cuba, to the former Soviet Union, back to Cuba and on to America and a Sebring car sales lot began as a child, where he said he grew up as part of "Castro's experiment" - "brainwashing" programmed by a the Communist idealists.
Sitting at a bench for lunch Wednesday at Alan Jay Toyota, 404 North U.S. 27, Roque - the youngest of four brothers - Roque recalled the once-lofty, idealized goals he had as a 17-year-old boy ready to soar the skies. He said his family, like others in Cuba at the time, "was completely linked to the revolutionary process" until a communist state was declared in 1959, leading most of his family into exile in Miami.
Shortly after high school, the same link led Roque into an indoctrination into Marxism and by 1981 into Soviet jet fighter training, including complex psychological and visual reflexive tests and training in "the Barocámara," a metal chamber and operational Russian spaceflight capsule which cosmonauts used when returning to earth.
"All those who overcame them (tests) ... were then suited to be added to the group of cadets who will be going to the Soviet Union and to begin their careers at the Air Force Military Institute in the city of Krasnodar, close to the Kuban River and not far from the Black Sea," he said.
Roque spent time flying in MIG-23BN Soviet fighter-bombers at supersonic speeds, preparing for a career in the Cuban military until he decided to face what he called the "Communist lie" and repeal his allegiance, causing his court-martial in 1986. He went back home, under constant surveillance, and in 1991 tried to leave Cuba for the U.S. by raft, where he was intercepted in the Straits of Florida by Cuban officials.
That's when Roque said he ended up giving up his rights, opinions and freedoms to express his religious and political beliefs and being thrown into jail for five months and into a labor camp for a half year.
"Since I was little, they told me to be against the 'imperial' forces and there was no way to know about the outside world at that time," he said.
In 1994, through a U.S. government program for political refugees, Roque was finally able to leave Cuba for Miami. Since then, he said he received a bachelor degree from Florida Atlantic University, Boca Raton, and master's degree from Nova Southeastern University, Ft. Lauderdale and went on to found an online book sales company, "Alejandro's Libros." He even authored an autobiography, "Born Motherland or Death."
Roque's story of tenacity was so inspiring to Alan Jay's transportation manager Sam Dunn, a Vietnam war veteran, that he featured him in the company's Fourth of July issue newsletter. He said he found Roque's background and will to overcome political and social repression and his gratefulness for democracy needed to be shared as July 4 approaches.
"Here's a guy that exemplifies the American dream. It's a great story and I'm proud of him for doing what he did. I thought his background was fascinating," he said.
pcatala@highlandstoday.com
(863) 386-5855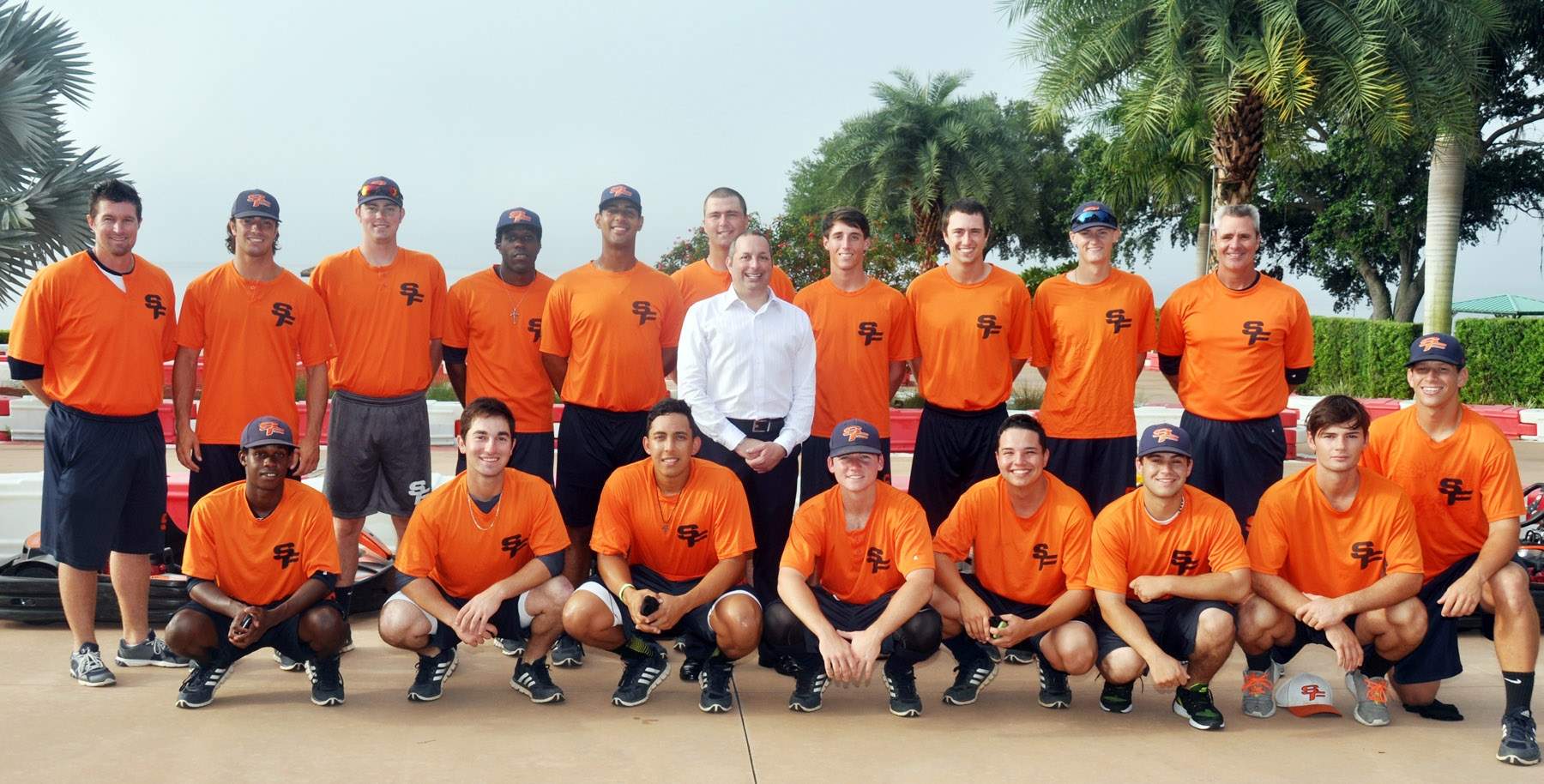 Courtesy of Highlands Today - 2015
South Florida State College's Panther Baseball team recently had the opportunity to create a lasting community partnership and accept a gracious donation of over $1,600 from Alan Jay Wildstein. 
"We greatly appreciate the partnership and support from Alan Jay Kia and appreciate Mr. Wildstein's extreme generosity," said Rick Hitt, SFSC athletic director and head baseball coach. "Our athletic programs take great pride in involving us in our community and are grateful for the continued support SFSC athletics receive." 
Alan Jay Kia held a fundraiser for SFSC's Panther baseball team on April 19, 2015 at the dealership in Sebring. Car buyers were entertained with live music, food, an apple pie-eating contest, a dunk tank and a bounce house for kids. For every vehicle sold during the party, a portion of the proceeds were donated to Panther baseball.